Welcome!
As chiropractors serving the Phoenix, Arizona area, our mission is to help our patients experience better health, mobility, and live a pain-free life through non-invasive healing methods and treatments.
We have been helping Arizonans on the road to recovery for over 30 years, and in that time our practice has continually improved to offer new and innovative treatments to help our patients live their best lives.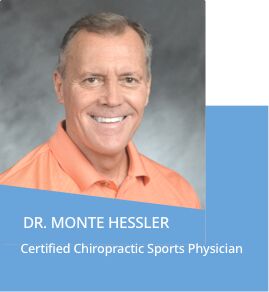 A team chiropractor for professional sports teams and a private practice chiropractor for Phoenix patients.
Dr. Monte Hessler is a chiropractor serving the Phoenix, AZ area. In Dr. Hessler's experience as the team chiropractor for the Phoenix Suns, the Phoenix Mercury, the San Francisco Giants, and the PGA Tour, he gained extensive experience in treating top professional athletes who sustained injuries of all types. He continues to serve as both a team chiropractor for professional sports teams and a private practice chiropractor for his Phoenix patients.
Patients may see a chiropractor for a number of different reasons. Sports injuries, auto accident injuries, slip and fall injuries, and more can be effectively treated with non-invasive chiropractic care methods. Dr. Hessler firmly believes that his patients are number one. No matter what a patient's pain complaint might be, Dr. Hessler will spend the necessary time and effort to find the ideal solution. Call the office today to get started with a consultation!
Is Board Certified in Chiropractic, Physiotherapy and Acupuncture. She is licensed in both California and Arizona.
Dr. Carissa Abe discovered Chiropractic Care in her early athletic career. Chiropractic changed Dr. Abe's life after years of frustration with pain and no improvement in her college athletics. With one treatment from a Sports Medicine Chiropractor, she was able to thrive and compete at the highest collegiate level…Div 1 NCAA Championships. After college, she was then inspired to help patients reach their optimal potential with Chiropractic Care. Dr. Abe went on to finish her collegiate swimming career as one of ASU's All- Americans. After graduating from ASU with a BS in Kinesiology, Dr. Abe enrolled in Chiropractic school at the Southern California University of Health Sciences. Her love of chiropractic medicine grew deeper as she worked alongside several successful chiropractors and traveled across the US to represent her school. Dr. Abe graduated from SCU with honors and received the President's Leadership Award for her class.
Dr. Abe specializes in Diversified Chiropractic Adjustments, Active Release Technique©, Graston Technique©, Kinesio taping©, Sports Medicine, Activator Technique and Webster Technique. She is Board Certified in Chiropractic, Physiotherapy and Acupuncture. She is licensed in both California and Arizona.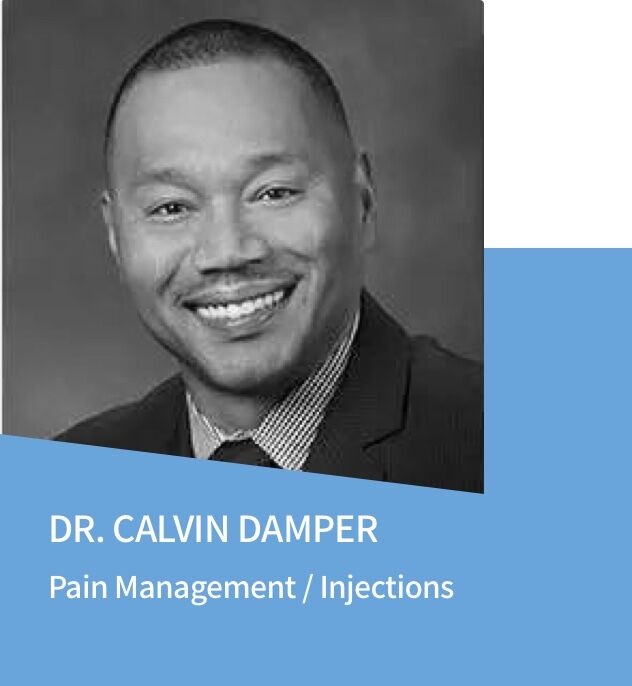 Is board-certified by the American Board of Physical Medicine and Rehabilitation.
Walter Calvin Damper, D.O., is an interventional spine, pain and sport specialist. Dr. Damper received his bachelor's degree in biology from Cumberland College in Williamsburg, Kentucky. His medical degree was obtained from AT Still University of Health Sciences in Kirksville, Missouri. Dr. Damper completed his internship from Chino Valley Medical Center in Chino, California and his residency in physical medicine and rehabilitation at Loyola University Medical Center in Chicago, Illinois. After his residency Dr. Damper completed his fellowship training in interventional pain, spine and musculoskeletal fellowship at Non-Surgical Orthopedic P.C. in Marietta, Georgia.
Dr. Damper is board-certified by the American Board of Physical Medicine and Rehabilitation and has a special interest in the treatment of non-surgical care to patients which would incorporate interventional treatments, electro diagnostic studies, osteopathic manipulation therapies and rehabilitation. He is an active member of the American Academy of PM&R, American Osteopathic Association and the Arizona Osteopathic Medical Association.
Hazuki Tokuue has been licensed and offering Massage Therapy to a wide range of clientele (including professional athletes, cancer survivors, people with chronic pain and canine companions) since 2004. She received extensive education at Honolulu School of Massage in Hawaii and has completed training in Swedish Massage, Deep Tissue Massage, Orthopedic Massage, Sports Massage, Reflexology, Prenatal Massage, Craniosacral Therapy and Visceral Manipulation. She is a National Board Certified in Therapeutic Massage & Bodywork, a certified Quantum-Touch® Energy Healing Practitioner and a certified Small Animal Massage & Acupressure Practitioner. Her focus and passion always resides in helping people to improve their health and wellness. She will listen to your needs and customize the session accordingly. Born and raised in Japan, she is fluent in Japanese and English. She also holds an MBA from Thunderbird School of Global Management. Call (480) 652-6251 to book an appointment today!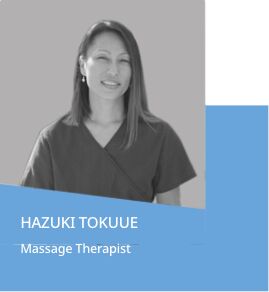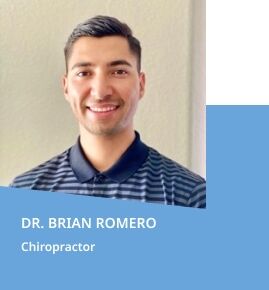 Dr. Brian Romero was a former division 1 collegiate baseball player at Indiana State University where he graduated with a Bachelors in Exercise Science. His passion in sports and active living drove him to further his education and pursue his doctorate in Chiropractic. He graduated from Southern California University of Health Sciences with his doctorate in Chiropractic in 2019 and is now starting out his career in Phoenix, Arizona.
Dr. Romero's evidence based and active model of care allows him to Empower his patients and focus on the root cause of their injury. By educating his patient's, it gives them an understanding of what is happening physically throughout their body which will allow them to have better outcomes. He believes a Chiropractic adjustment is a powerful tool to have and utilizes it along with many other types of care such as soft tissue treatments, patient specific exercise and many more.
Indiana State University
Bachelors- Exercise Science
Southern California University of Health Sciences
Doctorate of Chiropractic- Summa Cum Laude
Certifications
Rocktape

FAKTR IASTM

Advanced Myofascial Percussion
No matter whether your condition was caused by a sport, work accident or otherwise, we are here to help you!